Aromatherapy Training & Consulting for Health Care
I blend my years of experience as a Certified Clinical Aromatherapist, Educator and Integrative Therapist, to help you deliver a compliant and sustainable aromatherapy programs into health care settings - that you can be proud of!

What I provide
● Consulting - from start up decisions to implementation of staff education programs
● Customized Staff Education Training - hands on, how to, and practical
● Provide valuable resources and research with ongoing support to your staff
● Provide pure, therapeutic quality, professionally formulated blends in a variety of ready to use products from Topicals to Inhalation Patches!

Schedule a Complementary Discovery Call to discuss your needs for starting your aromatherapy program in medical settings.

From Simple to Comprehensive 'Core Training' Programs are
The Top Choice for Nursing Homes - Long Term Care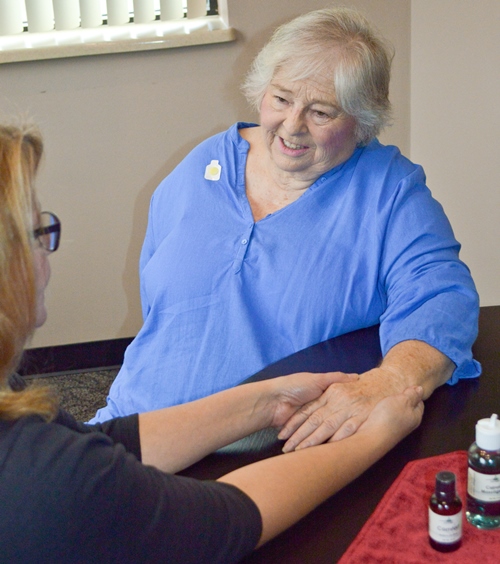 Core Training provides a variety of methods and essential oils to use aromatherapy safely and effectively throughout your facility, and provides a deeper level of training for your staff.
A customized comprehensive program will create enthusiasm from staff, and bring your patients and residents well being and symptom relief naturally. The basic key concepts of the science of aromatherapy, critical safety information, carefully selected oil and effective methods of use, oils and practice time is included in each techniques module.
What Jodi's Clients Are Saying . . .
"A Resident in the month of July used Tramadol (oral pain medication) a total of 13 times from the 1st through 10th. We started her on your Comfort Massage oil at HS on the 10th. Since then she has utilized Tramadol 6 times in 10 days! Over a 50% reduction in the usage of pain medication. Comfort Massage Oil works! From Wishek Living Center"

"Jodi played an instrumental part in getting aromatherapy started at our hospital. Her expertise in aromatherapy and passion for the field were evident – she helped us create education that addressed questions about aromatherapy use in a hospital setting. Our patients and staff love the Aromatherapy Patch!" Renee @ Regions Hospital St. Paul MN

"Hi Jodi- I just have to tell you, the VA survey process is just finishing up here today and they LOVE your aromatherapy program. They LOVE the patches the most"! Alycia Berglund, RN, North Dakota Veterans Home
"We use Jodi's patches in our all our hospitals. There has been an incredible for symptom relief including nausea, pain and anxiety using aromatherapy patches! Julie, RN, BSN Clinical Aromatherapist